| | | | | | | |
| --- | --- | --- | --- | --- | --- | --- |
| 800-797-7296 - Local 610-377-5637 | Directions | Hours | | 701 Bridge St. Lehighton, PA. 18235 | | |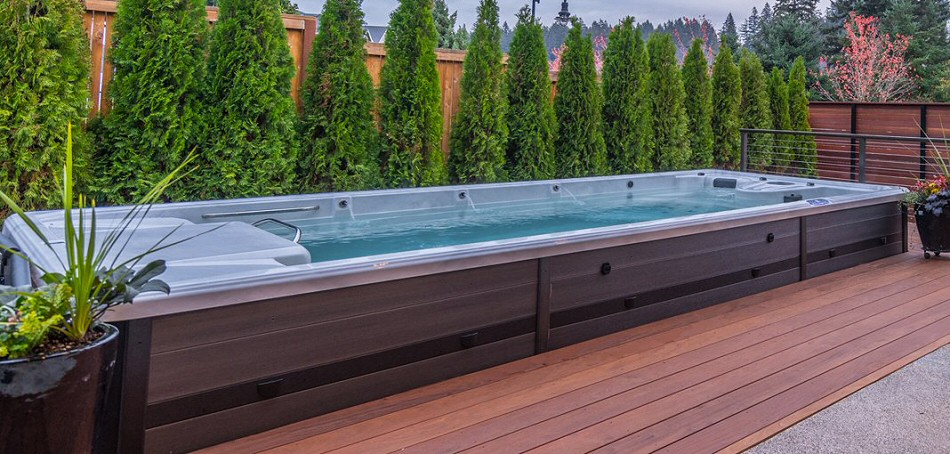 PDC Swim Spa Features
All the Right Features for the Best Swim Spa Experience. PDC spas is the largest and most trusted manufacturer of swim spas. Find out why PDC swim spas are the choice of swim spa owners and buyers around the world.
High Gloss and Durable Shell Finish
Glistening and resilient, the swim and fitness spa shells are made to deliver years of reliability and enjoyment. Reinforced with hand-laid fiberglass, this exceptionally strong shell is built by Americans in the heart of Pennsylvania. The high-gloss scratch resistant acrylic surface by Lucite® in Sterling Silver Marble or, the newly introduced Tuscan Sun Marble, is known for its decades of lasting strength and signature good looks
Weather Resistant, No Maintenance Cabinet
In a sea of look-alikes, the M Series Cabinet™ stands apart with stylish accents. The all-weather, fade and stain resistant synthetic PermaWood™ cabinet may look like it belongs in a galleria, but is made with your home and outdoor in mind. Available in two rich earth tone colors, Graphite Gray or Espresso Brown, the sleek parallel black accent band and matching corner columns separate these swim and fitness spas from all others. Consider the optional Eclipse LED Lighting to highlight the cabinet with soft down glow from black wall sconces.
Swim Spa Cover Lifter

A pair of black metal Cover Shelf lifters attach easily on each end of the swim spa for effortless cover moving.

Swing the arms open to support each cover half off the end of your swim spa. When your relaxation, fitness session is complete, push the cover back into place, fold close, secure the latches and swing your Cover Shelf arms close.

Safety Locking and Thermal Trapping Cover

Leave your operating cost worries behind! All swim and fitness spas include an ASTM approved locking safety cover constructed with marine grade vinyl and solid foam preventing heat escape, thereby reducing operating costs.
All swim and fitness spa covers are in a rich black color complimenting the black cabinet trim for a sophisticated, classic look.
Custom Stairs Add Convenience and Easy Access

PDC Spas offers handcrafted cabinet matching stair units for convenience and safety, not to mention adding to the already good looks of your swim or fitness spa. Built wide and sturdy, this 4 tier unit offers a closed stair design, complete with black posts and stainless cable rail.

Available in Espresso Brown or Graphite Gray, both matching the versatile, weather resistant PermaWood™ cabinet finishes.

Swim Spa Steps

Contemporary, stylish and sturdy, the PDC Spas swim spa steps feature stainless cable rail, thick metal posts and finishes complimenting the PermaWood™ cabinet; Graphite Gray or Espresso Brown. Measures an ample 41"W x 69"H x 62"D

MotionMat™ and MatTrax™
Enhance your swim and fitness spa experience with the PDC Spas MotionMat™. This amply sized fitness zone mat provides a slip-resistant surface for walking, jogging, running and any other exercise routine you may choose, while avoiding the high cost of a bulky treadmill. Our recently introduced Mat-Trax™ stair treads offer a gripping surface on step areas for added balance and safety. Both mats are constructed of a mildew resistant, fade resistant thick foam. MatTrax™ is offered in a choice of standard face or graphic design complimenting the MotionMat™ and an overall contemporary appeal.
Highlights Lighting™
Enhance your evening soak or swim with the multi-colored LED Highlights Lighting™ system. Standard on both the Synergy and TruSwim Series swim spas, this collection of soft glowing and pinpoint underwater lights and 6 lit cascading water spouts will enhance the sights and sounds of your backyard.
Eclipse Lighting™

Your new outdoor oasis will without doubt be the envy of the neighborhood. Adding the LED Eclipse Lighting™ package of 16 LED cabinet sconces (Vitality Series features 12 sconces), creating a beautiful glow on the hand-crafted M Series™ designer cabinet.
Reach a new level of style and elegance as you enjoy a starry night just a little bit longer while relaxing in your swim spa.

Oasis LED Lighting™

Take delight in the underwater shimmer of 6 lit Synergy ProTM current jets with the Oasis LED LightingTM package.

Paired with the radiance of up to 13 topside air and diverter controls, this lighting option will turn your SynergyTM FX Series swim spa into your own sparkling backyard oasis.

Bluetooth® BlueTune™ Audio

Topside mounted, marine-grade speakers and in-cabinet subwoofer turn your swim spa into a natural amphitheater for complete enjoyment with the BlueTune™ music system.

Set the mood for exercising, relaxation or a friendly gathering as you manage the playlist and volume conveniently from inside or out of the swim spa with any smart phone or mobile device.
Swim Spa Controls - You're in Control
Simple to use and easy to navigate, our Neo 2100 Series control is a menu driven operation center with all the features you could ever want for frustration free, reliable control of your new swim or fitness spa. From temperature to power to filtration, you choose the function that best suits your new swim spa lifestyle; health, wellness and fun at the touch of a button!

Personally Programmed Fitness Sessions with TruSwim®
Your new TruSwim® swim spa has an added feature on the Neo 2100 making your aquatic exercise experience yours, and only yours. Match your training level with a simple programming on the Neo and you're off. You can program up to 10 different sessions with varying times and speeds! Set the control when you begin your session, no need to pause or get out of the swim spa during your session. The Neo 2100 does it all for you!
Programming and Operation is Simple and Easy

The advanced technology of the Neo 2100 swim and fitness spa control center was developed to keep operation and programming simple for all owners. Have questions, learn more here Swim Spa Control Center Manual or watch the tutorial videos for a step by step instruction on how to get the most from your swim or fitness spa. Satisfaction guaranteed!
Swim Spa Wifi Wireless Control Mobile Ap
Anytime, Anywhere Convenience

With the WAVETM WiFi wireless control you can switch the heating mode to vacation from the airport or turn on the spa lights as you pull in the driveway for a late night workout or stargazing session.

Download the free mobile app to your smart phone or tablet to easily control your PDC Spas swim or fitness spa from anywhere, any time of day or night.

Made in America Matters - Made In USA Swim Spas
Designed, developed and built by American craftsmen in the heart of Pennsylvania, each PDC swim spa is constructed from the finest raw materials and painstaking manufacturing processes. Cast acrylic sheet from Lucite® begins the production, by forming durable outer layers of each ergonomically designed model. Units are then reinforced with multiple layers of hand rolled fiberglass and non-filled resins, for a swim spa you can enjoy problem free for decades.

Worldwide Recognized Ingenuity
PDC continues to lead in exceptional hydrotherapy innovation across the globe. Not only in the hot tub and swim spa industry, but professional sports arenas and our military have recognized our quality and now reap the benefits of warm water massage and exercise. Well known teams such as the Kansas City Royals®, Pittsburgh Steelers® and Dallas Cowboys® have improved their game with the help of PDC Spas products. Currently, we are in development with the Navy Seals furthering their training with the aid of effective aquatic exercise, utilizing TruSwim™ technology.
SWIM AND FITNESS SPAS. RENEW, RELAX, REPEAT.
Our collection of swim and fitness spas are the pinnacle of performance and style providing improved wellness and a better quality of life conveniently at home.
With a PDC Spas swim or fitness spa just footsteps away, you can achieve your personal health and exercise goals with the added resistance of our TruSwim® dual propulsion hydraulic, superior jetted swim or fitness currents.
With a variety of lengths, current styles and exercise features, your spa is customized to fit you and your home. Simply swim, run, walk or perform your favorite aquatic exercise on your own schedule and enjoy your improved lifestyle.
PDC Spa and Pool World is proud to feature PDC Swimming Spas, Spas, hot tubs and whirlpool tubs.

Contact us or stop by, PDC Spa & Pool World invites you to ease into the warm and tranquil waters of the finest spas, hot tubs and whirlpool tubs.

Vacation at home everyday...
PDC Spa & Pool World Inc. - 701 Bridge St. Lehighton, PA. 18235 - Toll Free 1-800-797-7296 - Local 610.377.5637 - Fax: 610.379.9568
Swim Spas Lehigh Valley Poconos Pennsylvania
Swim Spa Features - PDC Spa & Pool World
Swim Spa Steps, Swim Spa Covers, Swim Spa Colors Cabinets Finishes,
Swim Spa Lighting LED, Swim Spa Audio Blue Tooth, Programming